VTL-13 Furnace Viewing Television System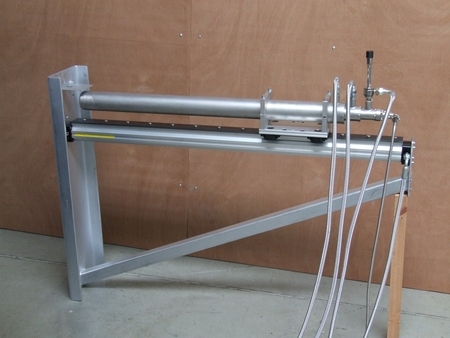 Please note that the support shown is typical, and will vary in configuration for any specific installation.
The VTL-13 system represents the current state of the art in furnace and boiler viewing television, incorporating highly efficient air cooling within a small overall diameter of only 75mm, and with the provision of an automatic retraction system as standard.
The VTL-13 provides additional functionality by being able to view at up to 90 degrees to the system axis, allowing optimised viewing even when boiler penetration ports are not ideally located.
System description
As with all of our furnace viewing systems, the VTL-13 provides high-quality pictures by viewing the furnace interior directly with no windows to degrade the image or require cleaning. A miniature solid-state colour camera is enclosed in an air-cooled stainless-steel housing. Primary cooling air flows through the outer passages, and very clean, cold secondary air flows past the camera and over the optical surfaces of the system to keep them clean and cool. This multi-layer air jacket provides cooling for operation at furnace temperatures up to 1600°C.
Because of the very arduous conditions at these temperatures, the system incorporates an automatic retraction system as standard to withdraw the assembly from the hot area in the event of any loss of cooling air, power, or in the event of temperature excursion outside defined limits.
The housing is designed so that the camera can be tilted within it, allowing viewing at an angle to the system axis (note: the camera viewing direction is not variable once fitted, as the viewing apertures in the cooling jacket are pre-aligned to suit the specific application.)
A local junction box houses camera power supplies, air and temperature monitoring sensors, air filters, video test point, alarm processing, emergency retraction test button and cable termination facilities.
High-efficiency filters are provided to allow operation from normal plant air, and it is possible to change these on-line without withdrawing the camera from the furnace, so the pictures are not lost to the operator, even momentarily.
Any alarm condition is indicated locally by warning lights on the junction box, and volt-free changeover contacts are provided for remote indication of alarm conditions.
The system is designed so that in the event of alarm activation it latches out and requires manual reinsertion into the hot zone; this ensures that the source of any alarm condition must be investigated, prohibiting the overriding of the system by the operator following a transient alarm. It is possible at specific user request to provide remote re-insertion after the alarm condition has cleared, but we do not recommend this as the cause of the alarm should always be investigated at the camera location.
The system is fail-safe and will still retract even in the event of simultaneous total failure of all services.
High quality colour pictures are displayed to the operator on an industrial video monitor.
The system is completely automatic in operation, and there are no operator adjustments required. Maintenance is limited to replacement of the air filters when required, and the occasional cycling of the retraction mechanism to verify correct operation.
All hardware needed for a complete operating system is included and no further items are required apart from air and electrical services, and cabling between the furnace and operator's location.
FURNACE VIEWING TELEVISION SYSTEM TYPE VTL-13
Specification:
Camera:
High-resolution (450TVL) colour solid-state unit with CCD sensor PAL/NTSC format as appropriate
Housing:
Stainless-steel triple flow design. For furnaces having an aggressive atmosphere, a special ceramic coating is available to provide immunity from chemical attack.
Junction Box:
Size: 800mm (h) x 600mm (w) x 250mm (d)
The junction box houses all electrics, pneumatics and alarm relays.
Volt-free changeover contacts (5A rating) are provided for remote alarm indication or integration with plant alarm systems.
Monitor:
(Standard) 36cm (14") metal-cased industrial flat-panel unit. Other options are available.
Services:
Air:
750 litres (25ft3)/min free air at inlet pressure of 4-7 bar (60-100 psig)
Filters are supplied to ensure suitable air quality when fed from plant air supply.
Electrical:
Junction Box:
90-260V AC, 47-63Hz, approximately 15 watts
Monitor:
100-240V, 50-60Hz, approximately 30 watts
Cabling:
A 75 ohm coaxial cable is required between junction box and monitor locations.
Alarms will depend on local requirements, but for full duplication at remote point a 6 core cable is required.
Alternative signal transmission is available using optical fibre or twisted-pair cable to suit local requirements and conditions.
Due to our policy of continual product development, specification may change without notice.
All Video Technology products are designed and built in Britain.