K9-eye Analogue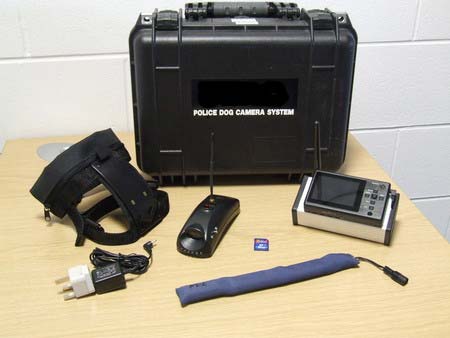 Product Details
The system comprises a miniature television camera, monochrome (FC1M) or colour (FC1C) and radio transmitter mounted on a lightweight head harness. There is a quick-release facility, allowing the harness to be worn at all times the dog is operational if required whilst the camera is attached only when needed. Rechargeable batteries are also contained in the camera housing, eliminating external power sources and connections.
To allow operation in darkness, lights are incorporated in the camera housing, and provide pictures in total darkness to a range of 5 -10 metres from the dog. White lights are used for the colour unit; infra-red for the monochrome unit, allowing covert operation.
An audio facility is also provided, allowing any sound or conversation in the vicinity of the dog to be recorded.
Pictures are viewed on a miniature, lightweight video recorder/monitor/receiver unit carried by the handler.
K9-eye benefits
The K9-eye dog camera system has been developed with the welfare of the dog as a primary concern.
The benefits of this design philosophy result in a unit that is very light and easy to wear, comprising a small camera housing which also contains the radio transmitter and lights. The digital system also has the battery included in the housing; in the analogue system the battery is contained in the collar of the head harness. The camera attaches to the harness by a quick-release fitting that is both robust and simple. This allows the harness on it own to be worn by the dog for training and familiarisation.
Mounting the complete system on the dog's head completely eliminates the possibility of connecting cables catching on obstacles and causing either damage to the equipment or harming and possibly trapping the dog. Because the system does not require the dog to wear a body harness or vest, the possibility of overheating in hot environments is also reduced.
As the camera is mounted on the dog's head, it is always looking in the same direction as the dog, and so will see anything that attracts the dog's attention, even if the animal is sitting at the time. Similarly, when the dog is tracking or has identified a target, there is no obstruction of the view by the dog's head.
Because of the small size and weight (no version weighs more than 400g) carried by the dog, its speed and agility are not compromised, and its endurance is similarly unaffected. An even smaller and lighter version is under development particularly for very small dogs and USAR operations where the dog has to enter very confined spaces. This version should be available mid-2012.
The handler's end of the system comprises a receiver/monitor/recording unit, allowing continuous live monitoring of the dog. Several options and configurations of the operator's equipment are available, but normally a single integrated unit will be used, which is lightweight and easily carried.
Options are available to allow live streaming of the video via Internet or local networks, permitting remote command centres to view the live picture if required. Please ask us if you have a specific requirement to integrate the system into your environment.
All K9-eye systems have the basic advantages of a single lightweight package carried by the dog, with no connecting cables to snag on obstacles, and offering no restrictions on the dog's speed and mobility, reducing fatigue and allowing rapid familiarisation with the equipment.
Specifications
Camera:
Minature solid-state unit ¼" CCD sensor.
Colour:
430 TVL resolution (FC1C) 1.6 lux
Monochrome:
400 TVL resolution (FC1M) 0.06 lux
PAL/CCIR and NTSC/EIA television standards are available to suit location
Housing:
Custom-designed injection-moulded unit, contains camera, transmitter unit, lights, regulating circuits, and on/off switch with LED indicator. Detachable antenna. Battery life is 2-3 hours in normal use.
Head harness:
Nylon webbing with buckle and Velcro adjustment, has quick-release mounting for camera housing, zipped pocket for rechargeable battery, and electrical contacts for automatic connection of power when camera is fitted.
Available in 3 sizes to suit different breeds of dog.
Weight
Camera housing assembly:
190g (6.7oz)
Harness:
150g (5.3oz)
Battery:
230g (8.1oz)
Recorder/receiver/monitor unit:
Miniature, lightweight unit comprising directional antenna (75 x 50 ), receiver unit, micro-DVR recorder (HD, SD or SDHD recording medium), recorder has 60Gb built-in hard drive; video monitor with 3.5" screen and rechargeable batteries. Battery life is approximately 2 hours.
Security:
Every frame of video is individually numbered and carries the recorder serial number and time and date stamp.
Recording time:
Normally, the highest quality will be used; at this setting, approximately 30 minutes per GByte of memory. A 4GByte card is recommended . Cards can be replaced in a few seconds if required for evidence.
Weight:
400g (14oz)
Wireless link:
2.4G Hz or 1.4 GHz, licence-free (other frequencies are available, licences may be required according to your location).
Transmission powers available:
2.4 GHz; 10mW to 160mW
1.4 GHz; up to 500 mW
Higher power options may be limited by legislation depending on your location.
Up to 16 channels are available in 2.4 GHz band (location dependent)
Up to 4 Channels are available in 1.4 GHz band (location dependent).
Range:
Range will depend entirely on the local environment and transmitter power, but it must be emphasised that this system is intended for close-support operations and has a deliberately limited range. In general terms, the handler will normally be sufficiently close to the dog that a signal will be available at all times.
The K9-eye system has been developed in close association with South Yorkshire Police, UK whose collaboration and assistance is acknowledged. (The dog in the picture is Max).
Due to our policy of continuous product development, specifications may change without notice. All Video Technology products are designed and built in England.