K9-eye Digital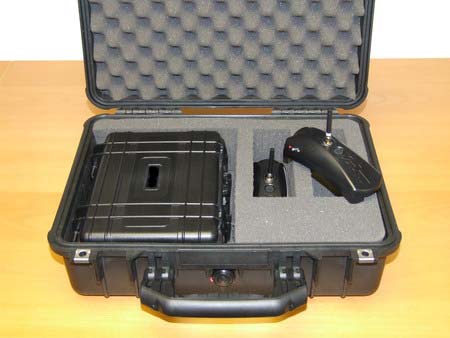 This second generation of the well-proven K9-eye system uses advanced COFDM digital radio transmission techniques to deliver greatly-enhanced performance compared to the earlier analogue technology (which is still available where appropriate).
The system comprises a miniature television camera, monochrome (FC1M) or colour (FC1C) and radio transmitter mounted on a lightweight head harness. There is a quick-release facility, allowing the harness to be worn at all times the dog is operational if required whilst the camera is attached only when needed. Rechargeable batteries are also contained in the camera housing, eliminating external power sources and connections.
To allow operation in darkness, lights are incorporated in the camera housing, and provide pictures in total darkness to a range of 5 -10 metres from the dog. White lights are used for the colour unit; infra-red for the monochrome unit, allowing covert operation.
An audio facility is also provided, allowing any sound or conversation in the vicinity of the dog to be recorded.
Pictures are viewed on a miniature, lightweight video recorder/monitor/receiver unit carried by the handler.
Click here for the K9-eye Digital data sheet or contact us for more information.
Specifications
Camera:
Minature solid-state unit ¼" CCD sensor.
Colour:
430 TVL resolution (FC1C) 1.6 lux
Monochrome:
400 TVL resolution (FC1M) 0.06 lux
PAL/CCIR and NTSC/EIA television standards are available to suit location
Housing:
Custom-designed injection-moulded unit, contains camera, transmitter unit, battery, lights, and on/off switch. Detachable antenna for easy field replacement in case of damage.
Battery life is 1-1½ hours in normal use.
Head harness:
Nylon webbing with buckle and Velcro adjustment, has quick-release mounting for camera housing allowing harness to be worn at all times, but camera only when required. Available in 3 sizes to suit different breeds of dog.
Weight
Camera housing assembly:
240g (7½oz)
Harness:
150g (5¼oz)
Battery:
230g (8.1oz)
Recorder/receiver/monitor unit:
Miniature, lightweight unit comprising omni-directional diversity antenna system, receiver/recorder/monitor unit with recording to either SD card or hard drive (60Gb). Simple operation, with one-touch record action...
Security:
The COFDM technology provides exceptionally secure transmission, and every frame of video is electronically stamped with time, date, frame number and recorder serial number, providing a complete audit trail for evidence purposes.
Recording time:
Normally, the highest quality will be used; at this setting, approximately 30 minutes per GByte of memory is available. SD memory cards are available with up to 32Gb capacity. A 4Gb card is supplied with the equipment. Cards can be replaced in a few seconds.
Weight:
600g (14oz)
Wireless link:
1- 1.4 GHz, COFDM (Coded Orthoganal Frequency Division Mulitplexing) Licences may be required according to your location.
Transmission powers available:
60mW, 250mW
1.4 GHz up to 500 mW
Higher power options may be limited by legislation depending on your location.
Range:
Range will depend entirely on the local environment and transmitter power, but in clear field conditions, up to 1 Km (0.6 mile) can be expected. In general terms, the handler will normally be sufficiently close to the dog that a signal will be available at all times.
Due to our policy of continuous product development, specifications may change without notice.
All Video Technology products are designed and built in England.