K9-eye Dog Camera System
The K9-eye equipment is designed to meet the requirements of dog intervention and search operations, normally associated with firearms units engaged in building search activity, but can also be used for search and rescue operations in difficult terrain, vehicle, train and aircraft searches for IEDs, and drug operations.
This equipment is in operational service with Police and Military units throughout the UK and overseas.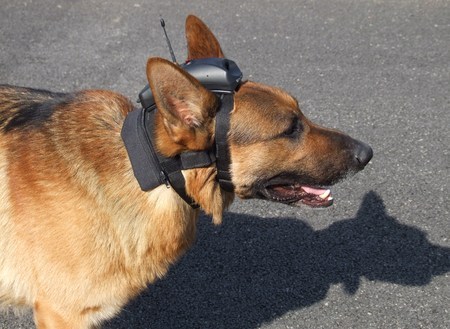 The latest version of K9-eye uses digital COFDM transmission technology for greatly enhanced performance, offering increased signal penetration, freedom from drop-outs and exceptionally high security from unauthorised interception. State-of-the-art transmitters and receivers allow extended battery life with no weight penalty for the dog to carry.
Click here for the K9-eye-E data sheet or contact us for more information.
Applications
Applications of the K9-eye dog camera systems include:
Building search
IED detection
Counter-terrorism and narcotics operations
USAR operations
Battlefield casualty location and evaluation
Products
Analogue transmission offers a very cost-effective solution for most police operations where the equipment will be used in a domestic/residential scenario. The transmission system is short-range, and is not encrypted; this is unlikely to be a problem in a typical rapid-response operation where there will be little time for potential eavesdroppers to organise interception.
This more sophisticated system, using COFDM technology, is appropriate where operating conditions are more demanding, such as special forces, IED or narcotics detection and more covert operations. The fully-digital transmission is highly secure against unauthorised or hostile interception, and has a significantly greater range, particularly in urban environments. The state-of-the-art transmitter is exceptionally small and energy-efficient, allowing the total load carried by the dog to be reduced to approximately 350g. (about 12 oz.) The cameras used in both systems are identical, providing high-quality pictures in either monochrome or colour under both day and night time conditions.
History
K9-eye was originally developed to meet a police requirement for a lightweight, reliable and cost-effective system for use by armed response and SWAT units to check the inside of a building before making an entry.
It has been procured by some 70% of all UK police forces. Many of these now consider the system to be mission-essential, and will not enter a building suspected of housing armed criminals without using K9-eye equipped dogs to reconnoitre the premises first.
The equipment has been in use by police and military units World-wide since 1993, with newer versions being developed to take advantage of the latest technology.